Seriously, read the fuck down and see my examples.
---
Meteorite Identification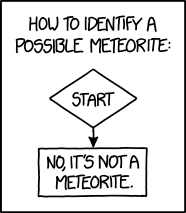 Sounds like someone doesn't want anyone else finding meteorites... Sign of a selfish person
---
10-Day Forecast

Yet another one of Randall's 'absurd things happening' comics
These got boring a long ass time ago.
---
Self-Driving Issues

Batshit retarded.
Surprise surprise, Randall is an uber shill. This was posted just before the first death was caused by a uber SDV. The sad part is Randall purposely avoids mentioning attacks that ONLY work on SDV.
---
Submit a review